9.09.2010 | My Blog
Marangu Hotel to Londrossi Gate. Londrossi Gate to Mkubwa Forest Camp.
We arrived at Marangu Hotel last night a little later than we had anticipated, as our driver was a tad behind schedule picking us up from the airport (never underestimate the power of 'Africa Time'). They were kind enough to save dinner for us, though, so we sat down in the dining room, ate our last satisfying supper, and read the little preparedness sheet we were given at the reception desk.
Apparently, with the route that we were taking (Lemosho, remember?), we needed to start at the Londrossi Gate, which was a FIVE HOUR drive from the hotel. From there, we start walking for a few hours until we reach first camp – Mkubwa.
Wait. Let me get this straight. We drive for five hours, and THEN we hike?!  How freaking long of a day is this going to be?!  One word: LOOOOOOOOOOOOOOOOOOOOOOONG.
So, we wake up this morning and I hop into the shower for what will be the final moment of cleanliness I will experience for the next eight days. I think to myself, "as soon as I turn this shower off, I start my climb". I had to physically will myself to turn off the shower – pick up my right hand with my left one, and toss it at the faucet lever. Perhaps an ominous start?
I get dressed, lay out my gear for inspection (they don't want you wandering up a mountain ill-prepared, you know!), pack my backpack, pack my day pack, pack my 'stuff-I'm-leaving-at-the-hotel' pack, and set off toward the reception area.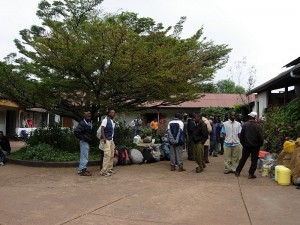 People are milling about, porters are packing, bags are being weighed, eggs are being packed in straw-lined coffee tins… The way it works is this; I carry my day pack which holds water, snacks, and rain gear. My personal porter (Arasmus) then carries my backpack with everything else in it (clothes, sleeping bag, etc…). Apparently he then puts HIS clothes in my backpack, too, so I have to make sure that I'm leaving room and weight to accommodate that. But wait… some strange man is going to carry my backpack? Isn't that… kind of… gross? I mean, no offense, but I know how sweaty *I'M* going to get, and the thought of someone else's sweaty back on my pack for eight days is a bit weird to me, so, I … wait… what's that? They do WHAT?!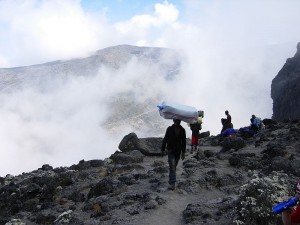 Ohhhhhhhh. Yeah, so what happens is Arasmus puts my big backpack and his gear into another bigger bag and just… well, carries it on his head. For eight days. It is my firm belief that Tanzanians defy gravity. Trust me, when I get to the day we climb the Barranco Wall, you'll understand.
So anyway, we're ready to go! Happy, happy team! Christopher, Steven, Amanda, your humble author, and Ali…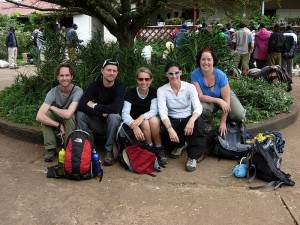 Don't we look happy? Don't we look positive? Don't we look clean and shiny and completely oblivious? Yeaaah. Yeah, we do.
And so – we drive. We drive for 5 hours on the most back-jarring, bone-splintering, unrelentingly rough road I have ever seen. It's so rough, in fact, that we all actually laugh continuously throughout the drive because it's just so horrendously funny. Well, funny until a tree branch decided to jump through the window and smack Steven on the head. Mean ol' tree branch.  Wait… I may have video of part of this ride… (not the tree attack, Steve, don't worry)…
I like how at the end of the video our guide Reggie says, 'now the road gets rough'. HA!
So, after our hilariously unearthly drive (chauffered by an Evil Knievel/Mario Andretti reincarnate), we reach our destination, get out, stretch, stretch more, stretch one last time, then start walkin'. We are informed that it will take 4-5 hours to reach the camp. We wander through pretty forest, step over nasty ants (that apparently bite you in "your sacred place" according to Reggie), and fall stinking, tired, hungry and laughing into camp. Ali and I decided to do video diaries at the end of each day for you, and this is what happened after day one (warning: language not suitable for all viewers)
Mkubwa Forest Camp – Night One
And so, after dinner I went back to the tent, stuffed myself into my zippered prison of nylon and feathers, put my head on… well… nothing really, because I sure as hell didn't have a pillow… and think one final thought before drifting off to sleep: "this is the first time I've been camping in six years. God help me."
Tomorrow: Day Two – To Shira One Camp!