9.24.2010 | My Blog, Uncategorized
Stella Point to Mweka Camp via Barafu
Let's get off of this rock, shall we? I've left you hanging out up here long enough…
The  hike down takes about 1.5 hours, so it's a heck of a lot faster than the hike up. However, it took me a little over three hours to get to the bottom because I kept stopping to try and convince my assistant guide to let me lay down and have a nap. Let me just remind you, I was not in the grandest of all head spaces at this point. No amount of begging, cojoling or bribing would get my guide to let me nap on the slope. What a jerk, eh? I mean, all I needed was 30minutes! I would meet him at the bottom! Sheesh… what a killjoy that guy was.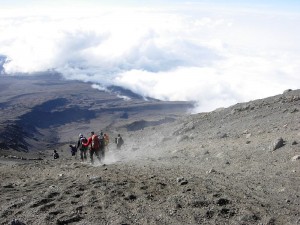 So…  I just want to say thank you to my assistant guide for NOT letting me nap on the mountain. That was a good call. You know, since I was looking to survive and all.
It was a long way down, and I was certainly happy to see the tent (do NOT repeat that to anyone, understand!?) at Barafu Camp again. I needed sleep. I crawled into my tent, and promptly took my daily dose of pills about seven hours too early. My brain was a mess. I was all over the place! I didn't know what time it was, where I was, or how I was going to get moving again if/when my guide made me stand up.
We were allowed to sleep for an hour, and it was awesome. But we needed to get moving. We weren't supposed to stay at Barafu Camp very long, so we had to get going ASAP. We were supposed to walk for about 4 hours down the mountain to Mweka Camp where we would stay the night. This is a loooooooooooooong day, dude.
I still hadn't fully recovered from the climb, so the descent was hella slow. Painfully slow!  But my body simply would not move. I would take a handful of steps, then have to stop and lean on my walking stick. We had a love-hate relationship, that stick and I. It took us way too long to get to Mweka, but we eventually reached the camp (having painfully passed by a higher camp that we weren't staying at. Dammit…) just in time for a quick dinner and, well…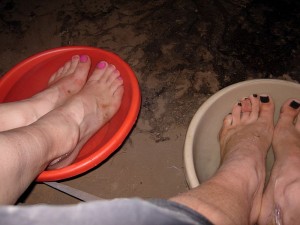 Next Time: The Final Video Diary., and back to Marangu…