5.31.2010 | 2 Comments
Ladner May Days was in town this weekend, and although I missed out on it for the most part, my dogs Jenn and Luna seemed to really enjoy themselves with all the wonder that the Fair has to offer. This is my impression of what was going through my dogs' brains as we walked through the park this morning…
Tree, tree, dirt – HOTDOG!? Score! Grass, grass, I know that dog, dirt, tree – NACHOS! With CHEESE! Dirt, dirt – MINI DONUT! Tree, grass – FRENCH FRIES! Dirt – HAMBURGER BUN?! This is AWESOME!
In an attempt to steer them away from all edible, rain-soaked and disgusting things, I walked them through town. Along the parade route…
Plant, flower, sidewalk, plant – CANDY!! Paper bag, plastic cup – CANDY!! Plant, plant – CANDY!! Dirt, weeds, plant – CANDY!!
Needless to say, our 40-minute walk took about 2 hours. In the rain.  Stupid greedy dogs.
Aaaaaaaaaaanyway… Ali and I went back to hike the Brother's Creek trail yesterday, and we had a lovely time. That really is a great trail, but it's a bit short. It's supposed to take 4 hours, but it takes us about 2.5 hours. We have decided to do it twice next time around. Well, that's what we've decided now… given that we've forgotten about: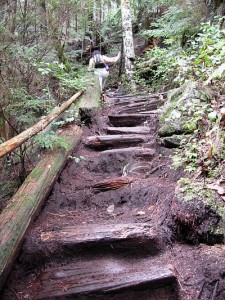 And:
(yes, that's water cascading down those steps)
However, it really is a beautiful and unique spot. Check out this weird pond we saw: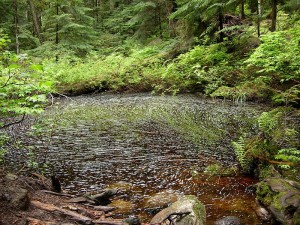 Cool, eh? Oh! And what about the big, honkin' trees? Those are cool, too!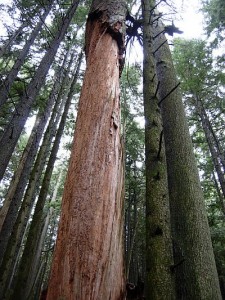 And then there are the weird, wonderful, wooly animals!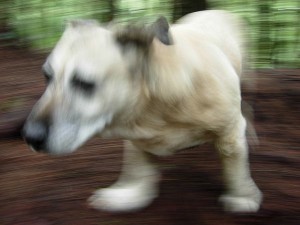 Ok, so it's not the best photo, but still… it was a totally bizarre dog. Like a basset hound crossed with a yellow lab. Odd little bugger. Cute, but odd.
And of course, there is the view from between the trees…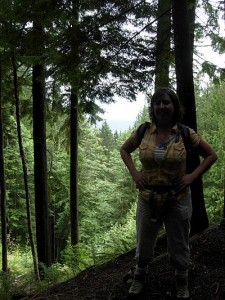 It's a great hike. Not too strenuous, and we did a whole lot better this time around than when we first attempted it. Oh, and no Nazi tree this time! It had been hacked up, splintered and rotted to within an inch of its life. Crazy what a difference 4 months can make in the forest.
And so, we finished our hike, and headed for home. We soon saw that the Lion's Gate Bridge was at a crawl. We weren't opposed to sitting in traffic, but as we discussed it, we realized that we shouldn't sit in traffic because… ummm… all that idling would be bad for the environment. We needed to step up and do our part to keep the planet green! Proudly, we made the decision to turn off before the bridge and to do something for the good of mankind…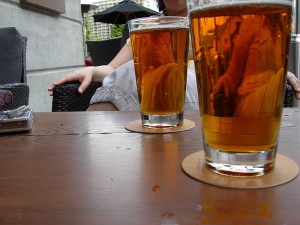 Muuuuuuuch better…
Happy beering hiking!